Monitor your PC from Anywhere, 24/7
Remotely Monitor your Computer within Minutes!
A proven leader for over 20 years, Realtime-Spy is the #1 remote spy software and cloud-based computer monitoring software available for parents and businesses that allows you to remotely install the monitoring system on any computer you own and access the activity logs from anywhere at any time via your own personal Realtime-Spy account! There is no need for directly connecting to the remote PC - all you have to do is point your browser to your secure Realtime-Spy member's area to view logs from any computers you install Realtime-Spy on. Realtime-Spy can log and record anything your child or employee does on your computer, as well as display, in real-time, what they are doing and typing. Realtime-Spy is a remote spy software solution that requires no physical installation, runs in complete stealth, and allows you to truly view activity logs from any location at any time!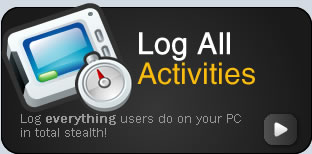 Realtime-Spy Logs...
Keystrokes and Passwords Typed
Websites Visited and Online Searches
How Long Websites are Visited
Screenshots of User Activity
Windows Interacted With
Internet Connections Made
Applications Usage
How Long Applications are Used
All Files Opened, Deleted and Modified
Location Changes
Text Copied to the Clipboard
Chatroom Conversations
Computer Usage Sessions
Forwards Emails Sent/Received*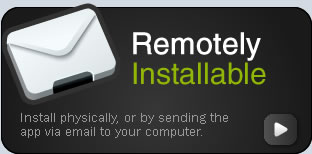 Remote Install & Removal
Realtime-Spy can be installed remotely onto your computer via email or file transfer by sending the logging app file to your remote PC. When the user runs and accepts the installation file Realtime-Spy installs itself and invisible stealth monitoring begins immediately, and logs are updated in real-time.

When you are done monitoring you can remotely uninstall Realtime-Spy, too!
Stealth Monitoring
Monitor your PC from Anywhere<!
View logs via your Web-browser
Real-time Keystroke Viewing
Real-time Log Updates
Real-time Screenshot Viewing
Real-time Activity Alerts
Around the clock, 24/7 Log Access
Search and Manage Logs Remotely
Secure Remote Access and Log Storage
Graphical Top 10 Reports
Centralized Viewing for Multiple PC's
Remote Log Archiving
Disables Spyware Detectors
Runs in Complete Stealth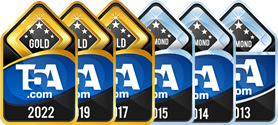 T5A.com Review: "Need the best in remote monitoring software? Realtime-Spy is the Diamond award winner!

Realtime-Spy is the best remote monitoring software as it garnered excellent ratings for its remote access, log reporting and monitoring features. It is also very easy to use and is also cheaper compared to other similar remote monitoring software."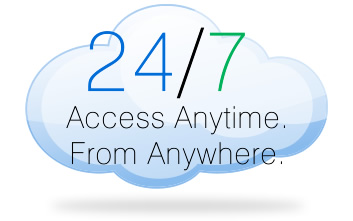 Cloud-based Computer Monitoring

Realtime-Spy's invisible computer monitoring software stores all logged information, from keystrokes to screenshot captures, online in your own secure member's area for real-time 24/7 access from any device with a web-browser. Logs are categorized by computer for easy centralized viewing and monitoring of multiple computers/devices.
Click here to See How Realtime-Spy Works
Screenshot Viewing
Capture and replay screen captures of what the user did. See exactly what they were doing. View the user's screen in real-time.
Keystroke Logger
Log all keystrokes (including passwords) and view content, window title, and the application they were typed in.
Real-time Viewing
View the user's remote desktop, keystrokes, and activities in real-time, as they occur. No delays between log updates.
Application Usage
See what programs users ran and interacted with, when they ran them, and how long they actually used/interacted with them.
Website Activity
Capture websites visited, online searches, and download activity with comprehensive time and duration logging. Tracks Incognito activity.
Files & Documents
Track file and document usage across all file system drives, portable devices, or network drives.
Chat & Social
See who users are talking to across social networks and chat messengers and read what is being said!
Email Activity
Log all emails typed and view copies of email activity via screen captures so that no communication is untracked.
Top-10 Reports
Generate easy-to-read top 10 reports and graphs detailing frequent application, website, file usage, and more.
Realtime-Spy offers cloud-based centralized computer management, allowing you to quickly view activities occurring on all of your computers at once, or individually by computer. View all activity from anywhere, at any time.
Realtime-Spy's computer activity overview provides a comprehensive activity summary that allows you to see how active each computer has been, along with what apps and websites are most used, what user is most active, and more.
Realtime-Spy captures all user activities for viewing in real-time - from keystrokes and file usage, to screenshots and website activity. All logs are organized into easy-to-read, searchable, sortable activity reports.
Realtime-Spy offers a large array of graphical Top 10 reports that provide easy access to seeing what users are most active and idle, what websites and pages are visited the most, what programs are used most and for how long, most popular files, internet connections, and more.
Realtime-Spy can be configured to watch for specific keywords. If the user of your computer types a watched keyword, or interacts with it in an application or website, you can receive an instant notification via email. Triggered alerts are logged for viewing at any time.
Who Uses Realtime-Spy?
Parents
Realtime-Spy can be used by parents to monitor their children and put their mind at ease. See who your children are talking to, what they are typing, what websites they visit, what games they play, and know exactly how long they are doing so! Parents can monitor their children from their workplace, or any other location where they have an internet connection and a device with a web-browser. Logs are updated in real-time so parents can react instantly to unwanted behavior.

I have your software on three computers at home. It is a great product. It has been very helpful for my family. I am a family therapist and share about your product each month with many parents who are looking for options to keep their homes cyber-safe.

- Robert W.

Businesses
Realtime-Spy can be deployed over a corporate or institutional network in seconds, allowing for easy centralized log viewing via the Realtime-Spy webspace. All the network administrator has to do is point and click different computers to view their activities! No physical presence is needed to monitor employees! Network administrators can monitor multiple large networks from one convenient, secure location that is accessible anywhere!

Let me say that this has been a wonderful piece of software. In the few days the small business I work for has had it in place on a few select PCs, we've monitored several incidents of users installing (or trying to install) unauthorized software on our business PCs. Thank you for a great software package.

- Shawn H.