Realtime-Spy Remote Spy Software
Realtime-Spy is the latest in high-tech surveillance and remote spy software that allows you to remotely install the monitoring system on any computer you own and access the activity logs from anywhere at any time via your own personal Realtime-Spy Webspace! No remembering long IP addresses or directly connecting to the remote PC - all you have to do is point your browser to your personal webspace address to view logs from any machines you deploy Realtime-Spy on! Realtime-Spy can log and record anything a user does on your computer, as well as display, in real-time, what users are doing and typing.
Realtime-Spy is a remote spy software solution that requires no physical installation, and is the first product to allow you to truly view activity logs from any location at any time!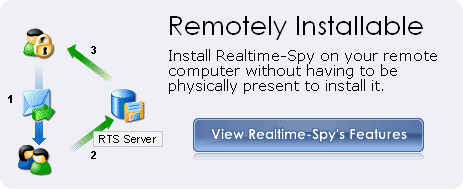 All Keystrokes Typed
All Websites Visited
How Long Websites are Visited
Screenshots of User Activity
All Windows Interacted With
All Internet Connections Made
All Applications Usage
How Long Applications are Used
All Files Used and Deleted
All Documents Opened
All Chatroom Conversations
All Computer Usage Sessions
Forwards Emails Sent/Received*

Monitor your PC from Anywhere!


Real-time Keystroke Viewing


Real-time Activity Viewing


Real-time Screenshot Viewing

Unmatched Logging Capabilities
Graphical Top 10 Reports
Secure online log storage
View logs from any location
Check activity logs at any time
Remote log archiving
Disables spyware detectors
Runs in stealth once installed!
Remotely Installable!